Initial Home Cleaning: This is your "Deep Clean". It is time to give yourself that new fresh clean start & we will give this to you! Book now for a cleaner home today!
Availability for this service:
Sat & Sun: 8am* - 8pm (*Or earlier if you prefer)
Stay Clean Package: If you feel like your household chore list just got longer & your life just keeps getting busier...We have a solution to help...our once a week routine cleaning package is the right fit for your home.
Availability for this service:
Mon - Fri: 8am* - 7pm (*Or earlier if you prefer)
---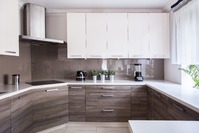 Keeping It Clean Package: Our most popular cleaning. You select what suit's you best to have your routine scheduled cleanings - either every two weeks, three weeks or once a month.
Availability for this service:
Mon - Fri: 8am* - 7pm (*Or earlier if you prefer)
Click here and start typing.
---
Checklist for Home Cleaning Services
Checklist of services performed at every home cleaning appointment. If you request an additional service not listed here, there is not a fee; it simply extends the billable time. These additional services are found under the Services Tab listed as Little Extras

The more areas that you clear off before our arrival, the more clear areas that we will be able to clean. If an area is cluttered with papers or other items, it may be difficult to properly clean or we may not be able to clean at all as we will not disrupt paperwork or other items. Some areas that we simply cannot clean are: concrete floors, areas that are higher than when standing on our step stool. We cannot steam clean your furniture or carpets (we are not insured to do so). Valuable collectibles that are on display we will not be able to dust or handle at all. Please read our policies and our frequently asked questions for more information and details on areas that we cannot clean. We will collect garbage from bathrooms (and other areas if requested), however, we cannot take the trash with us and must leave behind. Please let us know where you prefer we leave the garbage that is collected.
All Areas:
Cobwebs removed

Lamps: Base, shade (inside & out), light bulbs dusted
Any interior window and frame that we can reach easily will be wiped down and glass cleaned
Any visible marks (hand prints, dried matter & such) will be removed from doors, door frames, walls
Stairs vacuumed and steam mopped
Banisters and spindles dusted (if time permits, washed down)
Wall trim vacuumed and if heavily soiled, wiped down
All furnishing dusted - any spills or dried matter removed
All points of contact disinfected including light switches, door knobs, cabinet & drawer pulls
All cushions removed & furniture vacuumed
Vacuum under & behind all furniture (if able to move safely)
All wall hangings, picture frames, lamps, shades, window sills, frames (all within reach) dusted
All mirrors, glass table tops, interior of glass doors cleaned (exterior of glass doors cleaned if weather permitting)

Hard woods, rugs, carpets vacuumed
All floor surfaces if other than carpeting will be steam mopped
If you have cats and or dogs, we do as well! We are not afraid of cat and dog hair and have specialty cleaning equipment with us that can tackle the dog and cat hair. We will vacuum around your litter boxes (we know what it is like!) and if you really need us to - we can scoop out the litter boxes for you. You will have to let us know which garbage container in your home we are to scoop into (you must have a litter scooper for us to assist)

KITCHEN
Scrub and disinfect sink and fixtures
Clean exterior of major appliances including refrigerator, oven, range and microwave
Interior of microwave cleaned
Cabinet doors / drawers sprayed & wiped down (any dried on food or matter removed)
Back splash sprayed and wiped down
Furniture wiped down & kitchen table disinfected
Flooring vacuumed and then steam mopped
All counter tops cleaned and polished (All items on counters will be wiped down)


BATHROOMS
Counter top sanitized and disinfected
Walls around sink sprayed and wiped down
Sinks scrubbed - any stains around fixtures and inside sink / stopper will be scrubbed
Mirrors washed and cleaned
All racks (towel, toilet paper, hand towel) sprayed and wiped down
Any items on counter sprayed and wiped down
All wall items dusted
Toilet bowl brush, holder and plunger (if out) will be disinfected and wiped down
Tubs and showers scrubbed thoroughly and soap residue removed
Shower glass doors will be scrubbed
Toilets scrubbed from top to bottom, including behind the base at the floor
Any toilet ring or stains will be removed from inside the toilet bowl
Flush handle will be sanitized and disinfected
Wall trim & walls around toilet washed down and disinfected
Floor will be vacuumed and then sanitized with 212 degree steam mop
Shower curtain misted with Lavender Mist
Any marks removed from walls, doors, frames
Cabinets and drawers sprayed and wiped down
All points of contact will be disinfected
Garbage removed, garbage container wiped down and liner replaced with rose scented liner


BEDROOMS
Sheets changed if linens left out
Bed frame, headboard, foot board dusted
Bedside tables dusted
Mirrors cleaned
Dressers dusted
Bed and all furniture will be vacuumed under and or behind if able to reach or move
Bedside lamps, base, shade (inside and out) dusted
Any items (clock, picture frames) wiped down
Flooring vacuumed and if not carpeted will then be steam mopped
Lavender linen spray will be lightly misted

LIVING SPACES & OTHER ROOMS:
Dust corners, baseboards and window sills
Dust and wipe all surfaces
Clean light switches and door knobs
Dust light fixtures
Dust Furniture
Clean glass surfaces and mirrors
Deep vacuum floors, rugs, under all furniture, over sofa, under cushions, and pillows
Remove any marks from door frames, doors, walls, wipe down wall trim is very dirty
Clean all glass doors and windows if in reach
Any floor surface, other than carpeting, will be steam mopped
Laundry rooms: Washer / dryer wiped down; floors vacuumed and mopped (if big enough to allow for steam mop)
All hallways vacuumed and steam mopped


FINAL CHECK LIST BEFORE WE LEAVE:
Turn off all lights / Lock the door

Check for any running toilets & faucets
Check to ensure all appliances are turned off
Check to ensure pets are safe
Check thermostat - turn down AC or Heat
Payment is not due at time of service, we will send an invoice to be paid within 7 days. All services will include NJ Tax